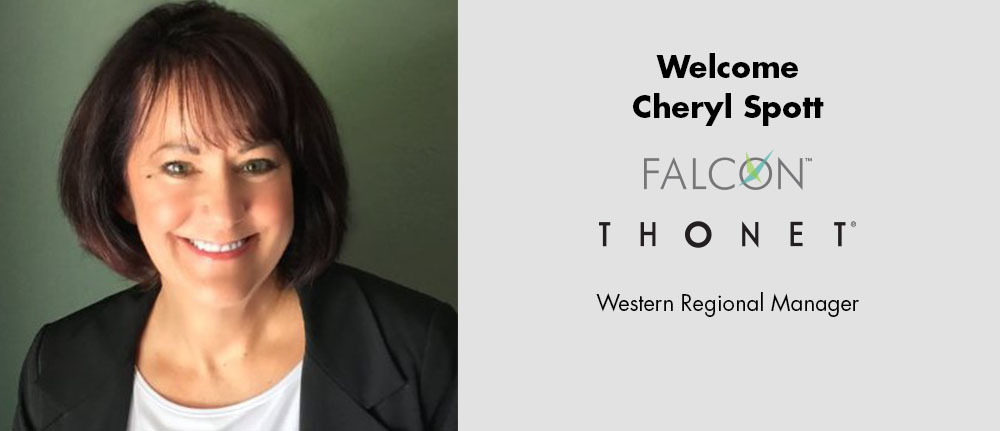 Meet Cheryl Spott, the New Western Regional Manager
Cheryl Spott serves as the new Western Regional Manager for Falcon Products and Thonet. We caught up with Cheryl to learn a little about her background and plans for her new role.
Tell us about your background.
I've spent nearly 30 years in the contract furniture industry, first as an independent rep, then building a contract furniture dealership, and for the past 16 years as a regional manager. I've developed a deep passion for the business and really enjoy working with sales reps, end users, architects and designers to provide solutions customized for each unique space. Most recently, I was with Indiana Furniture as Western US Regional Sales Manager and Director of International Sales for 14 years.

Why are you excited to join Falcon?
I was very impressed when I toured the factory. The people all seemed genuinely happy to be working there. I've heard nothing but great things about the entire leadership team and am honored to have the opportunity to work with them.
What are some of the product lines from Falcon that you see as particularly relevant?
I like the diversity of the products Falcon makes and the markets they make them for. The overall product offering is relevant to how people work today. Open, or 'unclaimed' workspace is very popular and products for those spaces will continue to be a leading trend in the industry. All of the products from Falcon lend themselves to open spaces and there are options to create a sense of privacy where needed. Adjustability is also very much in demand and Falcon's height adjustable tables are very applicable in today's market.
What is your approach to working with reps?
To be a successful leader you need to build relationships with your reps by getting in the trenches with them. In addition to being a strong liaison between the rep and the factory, I want my reps to feel I am part of their team and that they can depend on me to support their efforts. Adding value to their team is key to the rep's and the factory's mutual success.
Anything else you'd like to add?
The reputation of the company, the attitude of the people working there, and the diversity of product offering were the three main reasons I chose to join CFGroup. I'm excited to be part of the team!