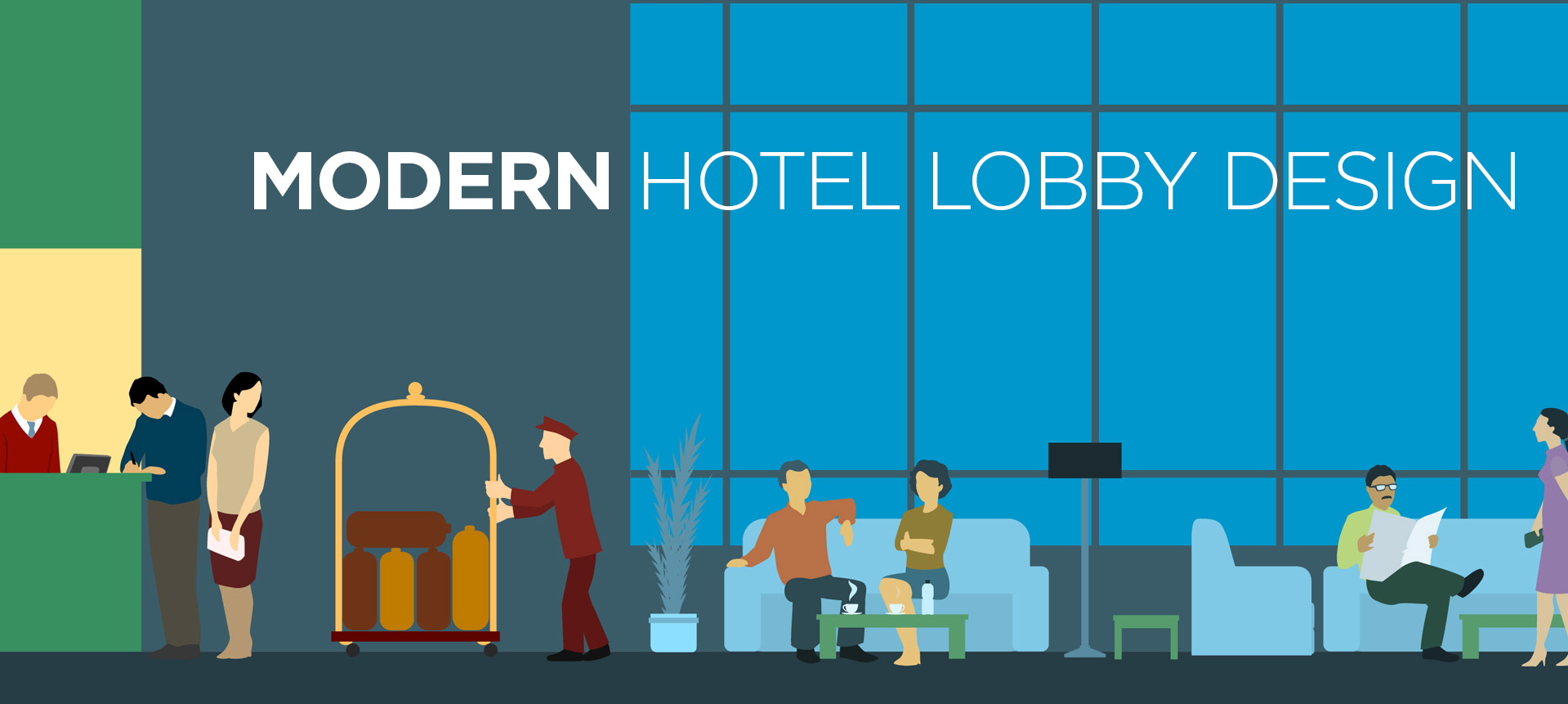 Modern Hotel Lobby Design
Trends in Hotel Lobby Design
There was a time when the hotel lobby was an area for guests to pass through on their way to the reception or the elevator bank. But much has changed over the years. The behavior of hotel guests has shifted as they spend less time in their rooms and more time in communal spaces. Modern hotel lobby design has reflected this change, resulting in large, multifunctional spaces offering more amenities. In this article, we explore the latest trends in hotel lobby design that meet today's changing needs, with a focus on dining and bar areas.
A Brief History of the Hotel Lobby
The hotel as we know it today can be traced back to London in the early 19th century as railways began to flourish, creating an exponential rise in visitors to the city. At the time, the lobby was the place to see and be seen in an exclusive, club-like atmosphere. By the end of the century, newly built hotels became ubiquitous, responding to the demand created by growth in tourism and business travel. Their lobbies in general were functional and sparsely decorated, serving mainly as waiting areas. It wasn't until the end of the 20th century that hotel chains began to rethink the hotel lobby, as travelers increasingly began using it as an informal meeting place. Changes to come included making the area larger, adding wireless internet service, and combining open spaces with private ones.
Today's Hotel Lobby
Today's hotel lobby is no longer a space to pass through, but rather a place to meet and socialize. With co-working zones, casual dining, bars, and meeting areas, lobbies are designed to reflect different lifestyles and cultures, inviting guests to linger and socialize. They often serve as destinations unto themselves. Lobbies also set the tone for a long-term relationship with clients, as hotels compete for customer loyalty. They are multifunctional, often offering cafés, dining areas, and bars while acting as work zones. Today's hotel lobby must strike a balance between form and function, while creating a memorable first impression, making guests feel welcome, and conveying brand identity. The pressure is on designing these hard-working spaces to perform a number of different functions.



The Essentials of Hotel Lobby Design
If one of the desires of hotel management is to draw guests out of their guestrooms and into public spaces where they will linger, keeping revenue inside the walls of the hotel, one of the best ways to accomplish this is by offering all-day dining and a bar. Creating different zones to hang out, installing comfortable lobby furniture and restaurant seating, and incorporating inviting biophilic elements can all serve this purpose.
Creating Social "Zones"
These days, the design and layout of lobby furniture encourage co-working by giving guests the option to arrange groups of varying sizes. Furniture is often laid out in grouped areas throughout the lobby as well as eating and bar areas, making it comfortable and convenient to communicate. Specifying lobby furniture with high backs creates an intimate work zone that is not completely cut off from the rest of the space, feeling both private and public at the same time.
State of the Art Technology
Hotel lobbies are being designed with the business as well as the leisure traveler in mind. Whether a guest is having breakfast, grabbing a snack, or sipping a cocktail, these days it's almost always an opportunity to plug in. The modern lobby offers digital technology that is readily available, easy to use, and up-to-date. You'll notice increased Wi-Fi capacity and plenty of outlets, including in the food and bar areas.
The "Lifestyle Lobby"
In order to make lobbies more appealing to travelers, interior designers have been opting to make them feel like a home away from home. They often resemble modern families or great rooms. This is achieved by turning generic hospitality furniture into comfortable, welcoming seating that invites guests to linger. Modern lobby furniture tends to be tailored but cozy, reminding guests of their own living or family room. You're more likely to see homey accessories, artwork that is personalized and looks curated, and a fireplace lounge in the bar area.
For guests starting their day, a cozy breakfast area with inviting restaurant furniture helps them relax while they enjoy their coffee and read the newspaper. For guests looking to unwind after a hard day of work, nothing is better than a comfortable bar area with approachable furniture.
Biophilic Elements
In a world dominated by technology, the chance to reconnect with nature is often a welcome part of the modern lobby experience. Biophilia is based on the notion that humans have an inherent need to connect with nature. We are hard-wired to crave all that is natural and organic based on our evolutionary dependence on nature for both fulfillment and survival. Studies have shown that the ability to view nature, even from indoors, lowers blood pressure and increases productivity.
The concept has found its way into the design of hotel lobbies. Biophilia can be incorporated into almost all aspects of their interiors, whether it's hospitality furniture and casework, materials and finishes, or lighting and acoustics. Elements of the natural world can include greenery, water, natural light, and the use of organic elements such as wood, stone, and bamboo. The result is an internal environment that reduces stress and invites people to relax.
The use of biophilic principles in lobby design is particularly prevalent in hotels in urban areas. Lobby furniture upholstered in floral or animal print fabric, potted plants, water features, living landscape murals, and sculptural flower arrangements all have a positive impact on guests' experience.

Shelby Williams has been producing furniture for the hospitality market for over 70 years. It offers the broadest selection and highest quality custom furniture in the industry.
Learn More About Custom Furniture for Hotels & Hospitality