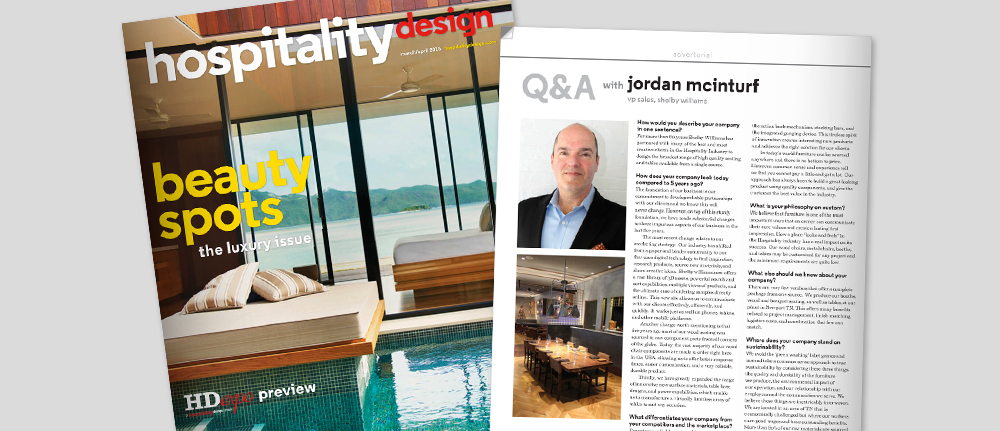 Hospitality Design Q&A with Jordan McInturf
How would you describe your company in one sentence?
For more than 60 years Shelby Williams has partnered with many of the best and most creative clients in the Hospitality Industry to design the broadest range of high quality seating and tables available from a single source.
How does your company look today compared to 5 years ago?
The foundation of our business is our commitment to develop reliable partnerships with our clients and we know this will never change. However, on top of this sturdy foundation, we have made substantial changes to three important aspects of our business in the last five years.
The most recent change relates to our marketing strategy. Our industry has shi'fted from a paper and binder community to one that uses digital technology to  find inspiration, research products, source new materials, and share creative ideas. Shelbywilliams.com o€ffers a vast library of 3D assets, powerful search and sort capabilities, multiple views of products, and the ultimate ease of ordering samples directly online. This new site allows us to communicate with our clients e€ffectively, e•fficiently, and quickly. It works just as well on phones, tablets, and other mobile platforms.
Another change worth mentioning is that five years ago most of our wood seating was sourced in raw component parts from all corners of the globe. Today, the vast majority of our wood chair components are made to order right here in the USA, allowing us to offer better response times, easier customization, and a very reliable, durable product. Thirdly, we have greatly expanded the range of innovative new surface materials, table base designs, and power capabilities, which enable us to manufacture a virtually limitless array of tables to suit any occasion.