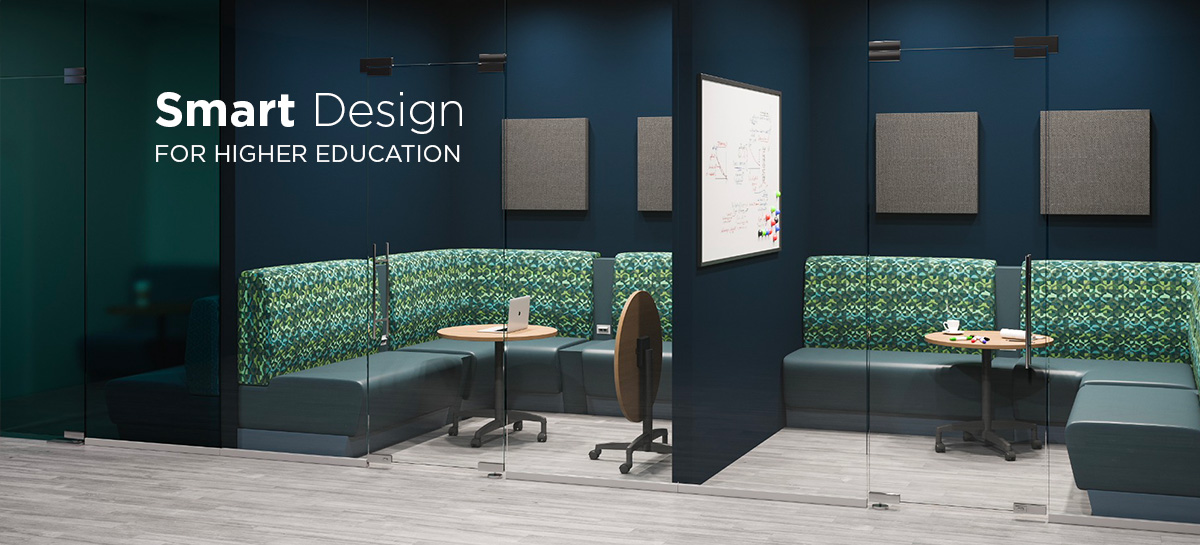 Collaborate in Comfort & Style: Innovative Furniture Solutions for Higher Education
Higher education is constantly evolving, or shall we say learning! Collaboration is a key attribute of today's learning ecosystem. From classrooms and libraries to dining halls, residence halls, and common areas, progressive educators and facility managers are adapting space to better accommodate collaboration. When students and teachers work cooperatively, they can readily share knowledge, ideas, and strategies, leading to a deeper and more meaningful learning experience. In recent years, collaborative furniture has emerged as a popular option for facilitating group work and social interaction in higher education, with Falcon at the forefront. These important pieces of furniture, including group tables, booths, and modular seating, are designed to encourage teamwork and support different learning and teaching styles.
In today's digital world, higher education furniture with power accessories is a must-have. With the right furniture, students can stay connected and actively engage in learning. Power options ranging from, USB, 15 amp, USB-C, HDMI, and even induction charging may be added to Falcon booths, meeting tables, training tables, and more to increase academic productivity and minimize downtime.



Modular tables are one of the most common types of collaborative furniture in higher education settings. These tables can be readily arranged and rearranged depending on the current need helping facilitate active learning. Many modular tables are equipped with built-in power and charging stations, making it easy for students to stay connected and charged up during their work sessions. Additionally, some tables can be raised or lowered to accommodate different heights, making them accessible to students with disabilities or physical limitations. Key features include casters for easy mobility and shapes such as round, V-shapes, and boat shapes, all of which help foster good communication. Community tables set at counter or standing height facilitate large groups of students allowing them the option of sitting or standing. This helps groups maintain equal eye contact fostering better communication.
Booths are another popular option for collaborative furniture in higher education. Available in modular or built-in styles, they are designed to maximize the square footage of the space. This type of furniture provides the unique ability to take large areas and subdivide them into different zones, creating semi-enclosed spaces that provide a private setting for small groups to work together. Falcon booths are great for areas that require a high level of concentration or for students who need a quiet space to work. Upholstered booths offer acoustic benefits, reducing the noise level within a space and improving communication. The addition of acoustic panels as dividers can also make a notable difference regarding sound mitigation. Studies show that loud, echo-filled spaces will reduce short-term memory and create unnecessary distractions for students.
Comfortable lounging spaces offer a more relaxed type of collaborative furniture that encourages social interaction and creative thinking. These spaces are designed to be cozier and more inviting, with soft seating and tables for holding laptops, tablets, and other devices. Lounges are perfect for brainstorming sessions, informal meetings, or even for just taking a break between classes. They provide a more laid-back atmosphere that can be beneficial for students who feel stressed or overwhelmed.
Well-planned furniture goes further than collaborative learning in higher education, allowing significant benefits for individual students as well. For example, a student who is shy or introverted may feel more comfortable participating in a group discussion when seated in a relaxed environment like a booth. Likewise, students with physical limitations or disabilities may find that height-adjustable group tables and other furniture options are more inclusive, making it easier for them to engage and participate more confidently in group work.



Collaborative forward furniture such as Falcon's tables, booths, and modular collections are an invaluable addition to higher education, providing a number of benefits for both students and teachers. By encouraging teamwork and social interaction, collaborative furniture fosters a dynamic and engaging environment that is conducive to student learning and success. When students work together in groups, they can share their ideas and perspectives, learn from and build upon each other's strengths, and more effectively collaborate on projects. When used in the classroom, library, or common area, collaborative furniture is an excellent tool for developing key skills such as cooperation, teamwork, problem-solving, effective communication, and critical thinking in higher education.