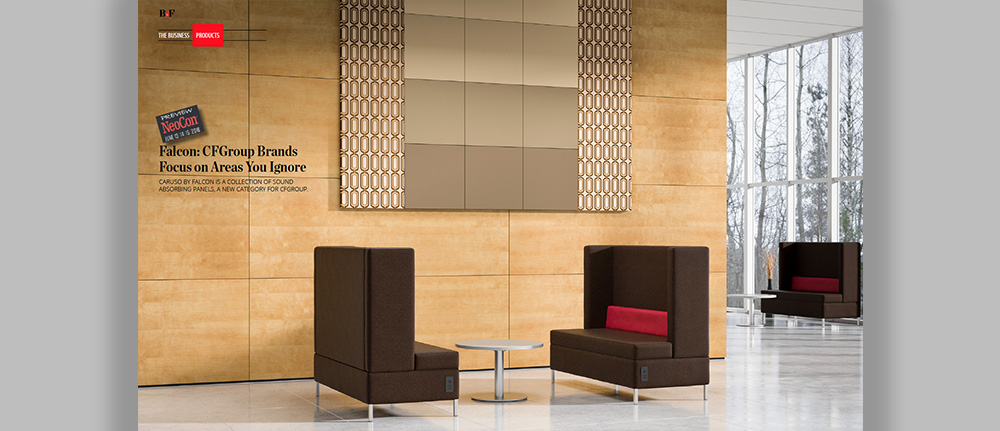 Falcon NeoCon Preview Featured in Business of Furniture
In the May issue of The Business of Furniture Magazine Falcon and the other CFGroup Brands are featured in a seven pages spread. The magazine previews some of the pieces that will be shown at NeoCon June 13-15.
Falcon's latest addition, Caruso, is discussed stating, "
E
xecutives at Falcon and the rest of its CFGroup brands have spent the last several years doing what its competitors are not
— literally finding products and categories that are underserved and exploiting them. At the same time, the brands are focusing more on design.
All the hard work shows, so much so that visitors to the company's showroom at NeoCon do a double take before heading inside. CFGroup has several new products — including an entirely new product category for the company — that will be highlighted during the show.
Caruso by Falcon is a collection of sound absorbing panels, a new category for CFGroup. Caruso is an Italian acoustic panel maker that is working with Falcon on the launch. The Caruso by Falcon collection will include a number of products that will help address one of the biggest problems facing the office: too much noise. Falcon will be the exclusive distributor of Caruso acoustical products in the U.S.
These ceiling hung, wall mounted and free standing products have a unique foam material that delivers outstanding sound absorption. Caruso by Falcon panels are minimalist and blend in with a space's architecture.
The acoustic panels are also available with custom printing. Any high resolution image can be converted into an acoustic panel that becomes artwork or a marketing focal point. Panels can be customized by size, colors and message. Caruso by Falcon panels are available in 22 colors, a range of fabrics, and variety of patterns."


To read the full article and see all that CFGroup has to offer at this years NeoCon
Click Here